During World War II, a total of 165 men from Minnesota's smallest towns gave their lives for our country. Several were awarded the Distinguished Service Cross, Distinguished Flying Cross, Silver Star, and Bronze Star. All received the award no one wanted: the Purple Heart. Most of their stories have never been told publicly. Little Minnesota in World War II, by Jill A. Johnson and Deane L. Johnson, honors these brave men from the smallest rural towns. From John Emery (who died December 7, 1941, on board the USS Arizona) to Herman Thelander (who was lost in the Bermuda Triangle, a mystery unsolved to this day), this unique book allows you to experience the war through personal accounts of the men and their families. With photos from the war, scans of actual letters, journal excerpts, and family memories, this one-of-a-kind book brings history to life and will make you feel prouder than ever to be Minnesotan.
Read more about our adventures with Little Minnesota in World War II below.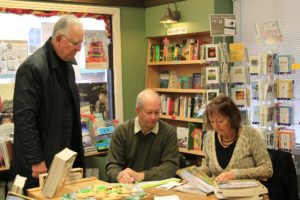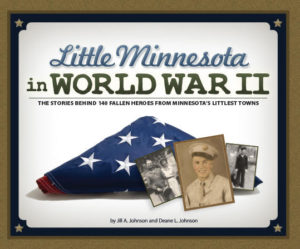 Jill and Deane Johnson will launch Little Minnesota in World War II at Beagle and Wolf on September 23.

Jill and Deane Johnsons' latest book tells the stories of 140 Minnesota men who died in World War II. The men all came from the tiny towns featured in the Johnsons' first book, Little Minnesota. The stories, which are accompanied by photographs, letters, and family recollections, are both inspiring and nostalgic.
Join us as we celebrate the publication of Little Minnesota in World War II. Copies of the Johnson's earlier books, Little Minnesota and The Best of Itasca will also be available, as well as cards made from Deane's Itasca photographs.