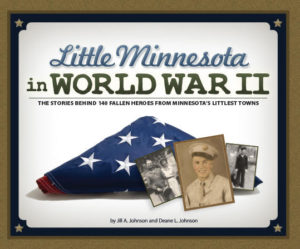 Jill and Deane Johnson will launch Little Minnesota in World War II at Beagle and Wolf on September 23.

Jill and Deane Johnsons' latest book tells the stories of 140 Minnesota men who died in World War II. The men all came from the tiny towns featured in the Johnsons' first book, Little Minnesota. The stories, which are accompanied by photographs, letters, and family recollections, are both inspiring and nostalgic.
Join us as we celebrate the publication of Little Minnesota in World War II. Copies of the Johnson's earlier books, Little Minnesota and The Best of Itasca will also be available, as well as cards made from Deane's Itasca photographs.