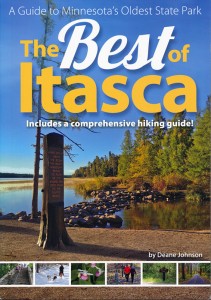 The Best of Itasca: A Guide to Minnesota's Oldest State Park, is available at book and gift stores throughout Park Rapids, Bemidji, Dorset, and surrounding area.  Itasca State Park also is offering the guidebook in its gift shops — look for special offers though the park.
Enjoy everything Itasca State Park has to offer with this detailed guide to hiking, biking, camping, lodging and skiing in the park and also La Salle Lake State Recreation Area, published by Adventure Publications May, 2014.  In additional to a detailed hiking guide to the park's trails, the book includes fascinating stories from Itasca's colorful past, and the prehistory and natural history of the land.  The book is designed for both the day visitor and for those who wish to explore the park in more depth.  With 200 color photographs and historic photos, the book also serves as a keepsake of your visit to this memorable park.  Available at Itasca gift shops, Beagle Books in Park Rapids, and other area stores, the 272-page book sells for $14.95.
A book signing and release party was held at Beagle Books & Bindery in Park Rapids at noon on Saturday May 10, and a presentation and guided hike is scheduled for Itasca State Park at 10 AM on Saturday, July 12, at Forest Inn.  Other events are pending, please see events calendar for regular updates.